The festive season is just around the corner, and it is widely celebrated, particularly in India. Festivals are all about blessings and happiness, which we share in the form of gifts with our loved ones. It is critical to choose a gift that will be useful. We have witnessed a significant movement in customer preferences toward healthy food and living a healthy lifestyle as a result of covid. People are more health concerned than ever before, realising that developing a healthy immune system is critical.
Dhanteras, also known as Dhanvantari Trayodashi, is the first day of the Diwali festival season. Dhan is a Hindi word that means "wealth." The term translates to 13th and refers to the 13th lunar day of the Hindu calendar's Krishna Paksha. Peoples give gifts to each other in form of money, gold or some other expensive stuff like jewellery, gold coins, etc. On the night of Dhanteras, diyas (lamps) are ritually kept burning all through the night in honour of Lakshmi and Dhanvantari. Hindus consider this an extremely auspicious day for making new purchases, especially of gold or silver articles and new utensils.
Many of us buy our loved ones something a nice gift for Dhanteras such as new jewellery or even more expensive things but give a bigger and better gift than any of those things. This gift will benefit not only you but also your family members for years to come, yet it's totally forgotten about better health.
Investing in gold can provide a nice return in the future, but what if you are not in good enough health to enjoy the gain?
Many people avoid a healthy lifestyle and more tend towards the expensive and free lifestyle where they can eat whatever they won't drink anything that relaxes them and buy any expensive stuff which keeps them emotionally happy. But a healthy diet helps to keep you fit emotionally and physically. A healthy diet plan helps to get into shape, focusing on fitness. Everyone like a gift which they could see and enjoy, like a diamond ring or a new sports car, but if you're not fit enough then how can enjoy this all luxuries gift. Better health is the best gift that you could give to yourself.
If a person is wealthy enough but he is not healthy then all the gifts really matter? If you want to enjoy the gift for a longer time duration then being fit and healthy is the only way to enjoy your life. Giving the best possible diet plan to you and your family is the best way to avoid all the diseases and live a healthy life.
The best gift you can give to your family in Dhanteras is an expert-guided nutritional plan which helps them to achieve the healthy lifestyle goal. The proper nutritional plan helps to consume enough amounts of calories that required them to sustain themselves throughout the day. There are some tips to remain healthy throughout the festival period:
Get regular health checkups-
Although there are various medical suggestions on nutrition, exercise, and living a healthy lifestyle, nothing beats a regular health check-up for staying on top of one's health. Because the risk of health problems grows with age, it is essential for every adult to have a health check. Early detection of diseases such as cancer can be the difference between a complete cure and a life-long battle.
Shift to a healthier diet-
Consume a wide range of foods, including fruits, vegetables, legumes, nuts, and whole grains. Every day, adults should take at least five portions of fruits and vegetables (400g). Include veggies in every meal; snack on fresh fruit; eat a variety of fruits and vegetables, and eat them in season. A balanced diet can reduce your risk of malnutrition and non-communicable diseases (NCDs) such as diabetes, heart disease, stroke, and cancer.
Avoiding fried food-
Consuming meals that have been fried in unstable or toxic oils can have a number of harmful health consequences. In fact, eating them on a daily basis can increase your chance of acquiring ailments such as diabetes, heart disease, and obesity. As a result, it's probably better to avoid or limit your consumption of commercially fried foods.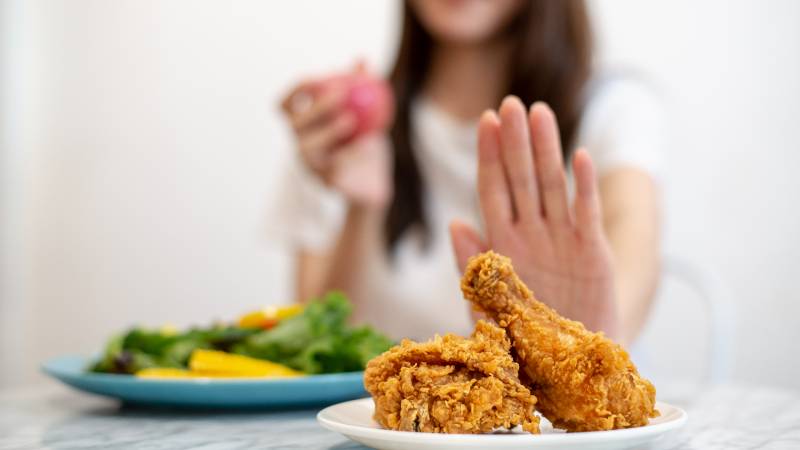 Choosing healthy fats-
"Bad" fats, such as trans-fat and saturated fat, are responsible for the same bad effects that all fats have been blamed for weight gain, clogged arteries, an increased risk of certain diseases, and so on. "Good" fats, on the other hand, such as unsaturated fats and omega-3 fatty acids, have the opposite impact. In reality, good fats can help you manage your moods, stay mentally sharp, combat fatigue, and even control your weight.
Yoga for betterment-
Yoga's emphasis on breathing exercises and meditation – both of which aim to calm and centre the mind – makes it clear that it provides mental health benefits such as reduced anxiety. Exercise of any kind can improve your mood by lowering stress hormone levels, increasing the creation of feel-good chemicals called endorphins, and raising the amount of oxygenated blood in your brain. Yoga also has a lot of advantages. It can boost your mood by increasing levels of gamma-aminobutyric acid (GABA) a brain chemical related to improved mood and decreased anxiety.
The most important and obvious reason to invest in your health is that you only get one body! This means that your first priority should be to keep it healthy. Another compelling reason to care for your body now is that you may not have done so in the past. Whether it was all the sugary snacks you ate as a youngster or the one too many cocktails you drank in college, most of us could stand to make amends for a bad era in our life. Another reason to invest in your health is that it will pay off handsomely! You will feel better when your mind and body are in good health! You might even discover that you have a completely new perspective on everyday life.
You can contact us at 09743430000 or visit quanutrition.com to Book An Appointment.