How to Make a Perfect Ragi Dosa!!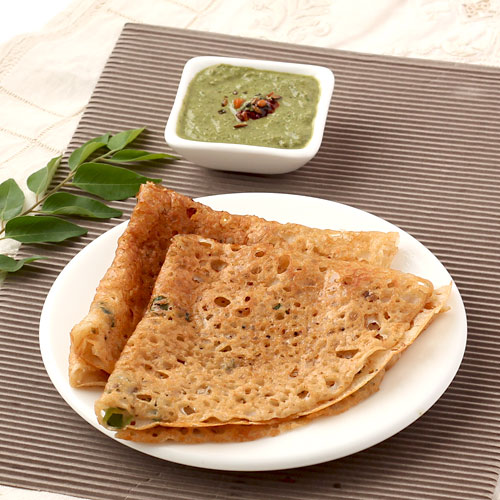 How to Make a Perfect Ragi Dosa!!:  A healthy variation of the South Indian delicacy.
 Follow these simple steps to make one!
INGREDIENTS
1 cup Urad dal
2 cups Whole Ragi Millet – Finger Millet
1 teaspoon salt
Oil for the dosa
INSTRUCTIONS
Wash the whole white urad dal and the Ragi millet. Soak them separately for couple of hours in lots of water so that the grains are completely immersed in water. Ragi needs washing a couple more times in running water as it might contain a lot of dust and foreign particles.
Grind the Urad dal with 1.5 cups of water in a blender to a smooth paste. Set aside.
Grind the Ragi millet with a cup of water in the blender to a smooth paste.
Mix the Ragi millet paste to the urad dal paste. Add in the salt and mix well to combine. Cover the bowl with a lid and let it ferment in a draft free place for 6-8 hours.
The batter should have increased in volume after 6-8 hours and should look foamy. Mix well using a spatula to release the excess foam. Be careful as to make the batter very thick. If it is thick, add some water to dilute. It should form thick ribbons when lifted.
Heat a dosa pan / griddle until hot. Let the flame be at medium. Pour a ladle of batter onto the griddle. Using the back of the ladle spread batter into a round. Sprinkle ⅛ teaspoon of oil onto the pan. Let it cook for 30 seconds until the sides are brown and little brown spots start to appear. Flip carefully with a thin metal spatula, and cook until browned. Upto 30 seconds more. Transfer to a plate. Continue with the remaining batter.
Serve warm, with chutney.
You can get creative and do variations by adding amaranth flour/oats flour/ wheat flour/rice flour.
While the above article guides you to eating healthier, there is no substitute for customized professional advice given by a qualified nutritionist. We urge you to speak to your personal dietician or if you need help, contact a nutritionist at Qua Nutrition.
You can contact us at 080 3232 9292 or log on to www.quanutrition.com to Book An Appointment.